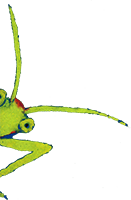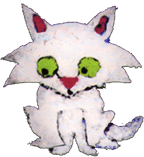 Hello! Hello! Hello!
My site is chockful of puzzles, crafts, and book activities.
Enjoy!

What's new…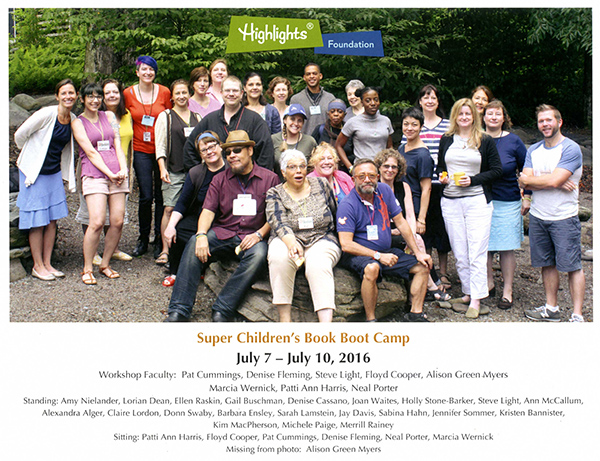 This year's Super Children's Book Boot Camp was another resounding success—a lot of fun and an abundance of productivity! Visit The Highlights Foundation website to learn about next year's Super Children's Book Boot Camp—you can also find more information on next year's Color, Light, Line, and Texture Hands-on Workshop with Ashley Wolfe and me.
Maggie and Michael Get Dressed is now available! Be sure to take a look at it's new activity page. More activities will be added soon.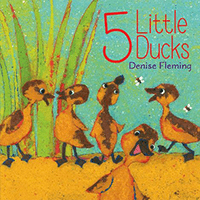 My other new book this year, 5 Little Ducks, will be released in November—you can pre-order now from your favorite bookseller!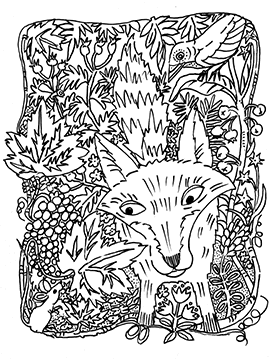 I recently donated a coloring page to be included in The Texas Library Association's Adult Coloring Book. The "Coloring Book is the newest initiative and fundraiser designed to support TLA's Disaster Relief efforts." Visit the TLA website to learn more!
I am also on Instagram now as denise_fleming_books and on Pinterest as Denise Fleming Books. Check out all of my social media:
My Newest Book
August's Featured Title:
Beetle Bop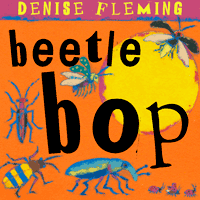 ★ Beetle Bob was featured in episode #902 ("Bugs/Beetle Bop") of Reading Between the Lions. ★
"Beetles come in a variety of shapes, sizes and colors, and Fleming…gives an exuberant shout-out to a slew of them in this eye-catching catalogue of backyard nature. Befitting the book's title, Fleming's verse dances across the pages…accented by changing font, color, and even direction in the layout of text. But young readers will especially want to pore over her bursting-with-color, dyed-paper-pulp compositions. As they do, they will glean information about beetle behavior…Part boisterous read-aloud, part field guide for entomology enthusiasts, this arresting volume has something for everybuggy." –Publisher's Weekly, STARRED REVIEW
"The balance between fun and fact will awaken youngsters' curiosity. This perfect mix of art, science, and rhyme is a great addition to library collections and excellent for promoting literacy devclopment." –School Library Journal
"Fleming creates a vibrant, exciting portrait of often-overlooked creatures.…both words and pictures vibrate with the relentless energy of her subject. The rhyming couplets call out descriptions of beetles with the pounding rhythm of a chant: 'Striped beetles, spotted beetles, all-over-dotted beetles.' the beautiful images, colored in bright, saturated shades shot through with electric jolts of neon, magnify the places where beetles hide—under leaves, inside pavement cracks—drawing young children into the secret insect world where predators sometimes lurk. The final spread shows the beetles' activity as a wild,joyful dance, which may inspire preschoolers to try out a creepy-crawly boogie of their own. A great choice for a restless crowd demanding a high-voltage read-aloud." –Booklist
My Newest Book
Download Free Posters!