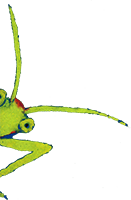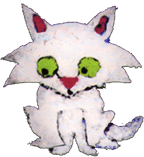 Hello! Hello! Hello!
My site is chockful of puzzles, crafts, and book activities.
Enjoy!

What's new…

Hello!
Both of this year's workshops at Highlights were a success and lots of fun! I will be at Highlights one more time this year as a Writer-in-Residency during the first week of October. You can visit Highlights' website to get more information on future workshops
In the Tall, Tall Grass has been selected for Maine's Raising Readers, an incredible "statewide program that gives books—free of charge—to all Maine children between the ages of birth and five".
2016 was a busy year, with two new books. 5 Little Ducks was released in the fall and has already receieved wonderful reviews from School Library Journal and Publishers Weekly, and Booklist and a starred review from Kirkus Reviews. It has also been named as one of School Library Journal's October Pop Picks and included in Bound to Stay Bound Books Cream of the Crop Fall 2016. It was also included in the Wall Street Journal's "The Best New Children's Books." Be sure to visit the 5 Little Ducks activity page! Maggie and Michael Get Dressed was released in the spring—take a look at it's activity page! Summer's Featured Title:

Mama Cat Has Three Kittens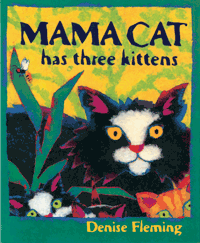 ALSC (ALA) Notable Children's Books, 1999
Children's Choices for 1999 (IRA and CBC project)
Charlotte Zolotow Award Highly Commended Title (CCBC), 1999
Nick Jr Magazine 10 Can't Miss Classics, 2000
Books to Read Aloud to Children of All Ages, 2012 Edition, Bank Street College of Education
Capitol Choices, 1998
Parenting Reading Magic Awards, 1998
For a complete list, visit Honors & Awards.
"From Peter Rabbit to the Poky Little Puppy, there's one in every family—one offspring who marches to the beat of a different drummer. In Fleming's (In the Tall, Tall Grass) chipper picture book, the odd kitten out is Boris, an orange tabby who prefers to nap while his mother and siblings sharpen their claws and chase leaves. But when Mama Cat and kittens Fluffy and Skinny curl up for a rest, Boris is ready to pounce (if only to find his next napping spot)…In addition to following the frolicking felines from scene to scene, young children will have great fun spotting trios of caterpillars, ladybugs, snails and bumblebees as well as a leery mouse who manages to stay out of the cats' path." –Publisher's Weekly
"As Mama cat leads her kittens through a garden adventure, Fluffy and Skinny carefully follow her example (cleaning paws, chasing leaves) while Boris naps. The surprise comes when Boris is ready to frolic and the others are too exhausted to play. Preschoolers will request repeat readings of this delightful story and enjoy searching for the smaller creatures found on each page. Fleming's kittens, created by pouring colored cotton pulp through hand-cut stencils, are large and bold and set against colorful backdrops. An excellent choice for reading aloud to groups." –School Library Journal, STARRED REVIEW
Download Free Posters!