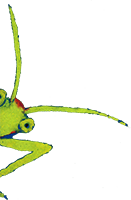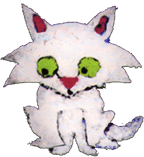 Hello! Hello! Hello!
My site is chockful of puzzles, crafts, and book activities.
Enjoy!

Welcome to my website!
Maggie and Michael Get Dressed is now available! Be sure to take a look at it's new activity page. More activities will be added soon.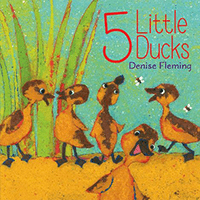 My other new book this year, 5 Little Ducks, will be released in November—you can pre-order now from your favorite bookseller!
I am also on Instagram now as denise_fleming_books and on Pinterest as Denise Fleming Books. Check out all of my social media: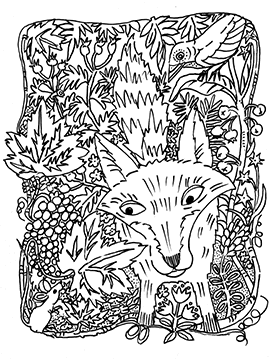 I recently donated a coloring page to be included in The Texas Library Association's Adult Coloring Book. According the the TLA website, the "Coloring Book is the newest initiative and fundraiser designed to support TLA's Disaster Relief efforts. The coloring book will feature artwork from several illustrators, including fellow Texan Don Tate, as well as award-winning illustrators Judy Schachner, Dan Santat, Denise Fleming, Rosemary Wells, among many others. Curated by Texas librarians, the coloring book will feature 42 pages of illustrator-sketched canvasses and fun that will appeal to all ages…The coloring book will available for purchase at the Texas Book Festival in October at the TLA booth, and it will be available for pre-order sales beginning at Annual Assembly."
My Newest Book
July's Featured Titles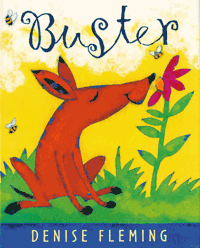 Buster
Publisher's Weekly Best Children's Books, 2003
ABC Best Books for Children, 2003
Capitol Choices, 2004
Charlotte Zolotow Award Highly Commended Title (CCBC), 2004
* Visit Books & Awards for a complete list
"Two's a crowd when a feline interloper disrupts a contented pooch's way of life in this clever cross between picture book and chapter book. Buster lives a dog's life, to be sure. He loves his 'dishes with his name painted on them in curvy letters,' his large grassy yard and Brown Shoes, the owner who takes him to the park whenever he asks. But this ideal picture changes the day that 'the big box' arrives—containing not spicy sausages, as hoped, but a white cat named Betty…Fleming (Alphabet Under Construction) brings a cheerful childlike tone to her text, along with abundant touches of humor and tenderness—and a clear understanding of pet (and child) dynamics. In a fresh-looking style that will especially appeal to beginning readers, she breaks her tale into brief 'chapters,' each bearing a title suited to the scenario ('The Big Box,' 'Lost,' etc.). Her signature colored-pulp paintings exhibit a smooth confidence as Fleming varies her compositions from full-bleed spreads to spot illustrations, all in a joyous palette dominated by snappy greens and yellows. Buster, a lively auburn pup who looks like he could be part fawn, is a scene-stealer with his expressive eyes and lifelike movements. And Buster won't be the only one happy to see ball-of-fluff Betty at book's end." —Publisher's Weekly, STARRED REVIEW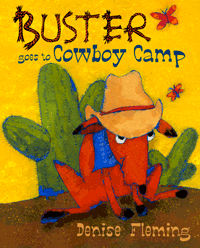 Buster Goes to Cowboy Camp
ALSC (ALA) Notable Children's Books, 2009
* Visit Books & Awards for a complete list
"From its opening blue-bandanna endpapers to its cowpoke glossary on the back cover, this sweet, simple story is steeped in the stuff of the Wild West. Buster the dog (Buster, 2003) returns, once again faced with a crisis. Owner Brown Shoes is off on a trip, and Buster is sent to stay with Red Boots at Sagebrush Kennels Cowboy Camp. Though initially apprehensive, Buster soon warms to his fellow campers and, in spite of himself, starts to enjoy his rollicking, temporary home on the range. Fleming extracts remarkable expression from her signature paper-pulp illustrations, and the dude-ranch details delight. What's more, the book package is terrific—from font choice and placement to the color-saturated, full-bleed illustrations. The real charm, however, rests in the careful, deliberate arc of the story. Rather than bringing Buster all the way home again, Fleming ends her tale as Buster closes his eyes, comfortable among his friends in the Sagebrush bunkhouse. Brown Shoes will be back, but Buster is safe and happy until his return." —Booklist
My Newest Book
Download Free Posters!