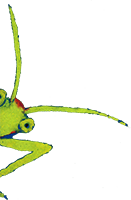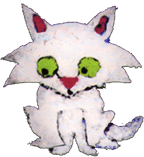 Hello! Hello! Hello!
My site is chockful of puzzles, crafts, and book activities.
Enjoy!

What's new…
Happy New Year!
I will be helping teach two workshops at Highlights again, and I will also be the Writer-in-Residency at Highlights for the first week of October. You can visit my page at Highlights' website to get more information and register for the wokshops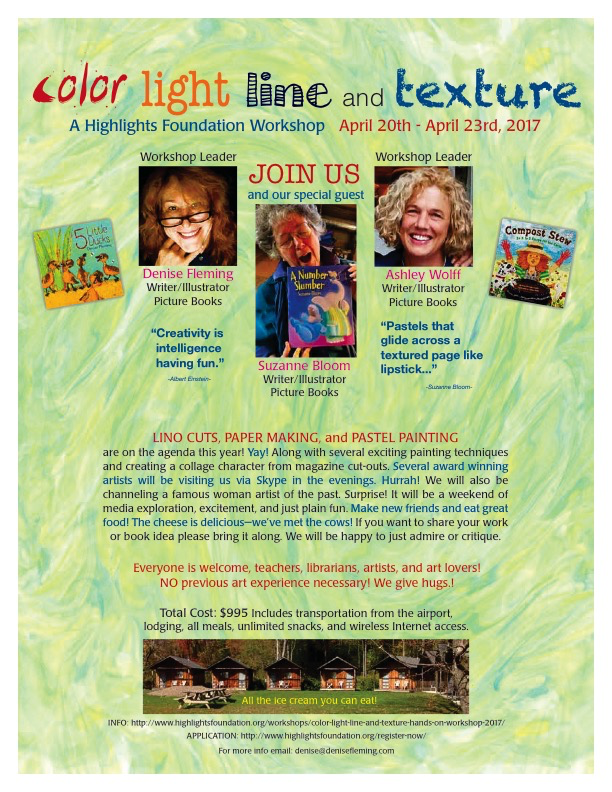 5 Little Ducks is now available! It has already receieved wonderful reviews from School Library Journal and Publishers Weekly, and Booklist and a starred review from Kirkus Reviews. It has also been named as one of School Library Journal's October Pop Picks and included in Bound to Stay Bound Books Cream of the Crop Fall 2016. It was also included in the Wall Street Journal's "The Best New Children's Books." Be sure to visit the 5 Little Ducks activity page!
I've also done two blog interviews lately that discuss my new books: "Denise Fleming Gets Inspired" on the Kirkus blog and Seven Impossible Things Before Breakfast and "Ducks and Getting Dressed"on Mile High Reading.
Maggie and Michael Get Dressed was released in the spring—take a look at it's activity page! More activities will be added soon. March's Featured Title:

The Everything Book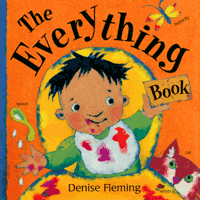 New York Public Library's List of One Hundred Titles for Reading and Sharing
Publisher's Weekly Best Children's Books of 2000
Nick Jr. Magazine Best Books for Ages 1-3
Parenting Reading Magic Award, 2001
Featured in The New York Times
For a complete list, visit Honors & Awards.
"Part concept book, part word book and part nursery rhyme anthology, Fleming's (In the Small, Small Pond) vibrant picture-book hodgepodge surely lives up to its title. Exuberant spreads teeming with brightly hued animals, plants, objects and for the first time in Fleming's oeuvre a cast of children, introduce numbers, colors, the alphabet, body parts and seasons. Simple rhymes ('Cock-a-doodle-do!/ Hello! Good day!/ Good morning to you!'), most of them anonymous, are interspersed throughout, like gentle breaks between more learning-oriented pages. Fleming is at the top of her game, depicting a seemingly endless number of bold color combinations using her technique of 'painting' with dyed cotton pulp and handmade stencils. Her richly textured compositions beg to be pored over and touched. Fans will delight in seeing familiar elements from many of Fleming's earlier works (In the Tall, Tall Grass; Lunch; Count!) freshly updated here. And readers young and old will want to accept the challenge of finding the 119 ladybugs that crawl or fly across the pages of this lively outing." –Publisher's Weekly, STARRED REVIEW
"This is a gorgeously illustrated 64-page compendium of nursery rhymes and much of the basic life information that caring parents un-self-consciously and naturally introduce to their babies, toddlers and preschoolers. Colors, shapes, numbers, the alphabet, names for body parts, the seasons -- all the first concepts children learn are endearingly presented in Fleming's vibrant, distinctively textured style. And, just for fun, tiny ladybugs are hidden among these objects, undetected except by the most keen-eyed young insect hunters. A key in the back of the book reveals how many appear on each page." –The New York Times
Download Free Posters!