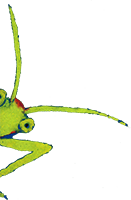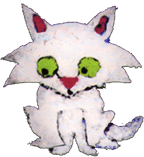 Hello! Hello! Hello!
My site is chockful of puzzles, crafts, and book activities.
Enjoy!

What's new…
Hello!
If you haven't yet, take a look at my amazing new teaching guides, by the wonderful Dianna Burt! They will give educators and caregivers ideas (discussion and activities) on ways to use the books to teach multiple concepts and they include the applicaple Common Core standards.
We would really like to start including more samples of my book activities, pictures from my presentations, and pictures of my books being used in the classroom, so if you have photos we would love to share them on the website! They can be emailed to indigo@denisefleming.com.
This Is the Nest That Robin Built
This Is the Nest That Robin Built was released in March 2018. It received several lovely reviews, including a starred review from Horn Book.
"A celebration of bits and pieces, of process, and of creation, this picture book describes how a robin builds a nest, shown through collage art that mirrors the bird's methods and cumulative verse that pays homage to "The House That Jack Built."[…]The jaunty rhythm of the text and the large, vibrant illustrations full of detail, along with a supporting minor cast of insects and other creatures, make for a lively story to share individually or with groups." –Horn Book, starred
"Like a fresh spring breeze, Fleming's cumulative tale celebrates a favorite symbol of the season, a robin's nest[…]The verse is saturated with alliteration and internal rhymes[…]and the collage illustrations gain bold, mottled textures from the varied printmaking techniques Fleming used to treat the paper before assembling them[…] Fleming's nature scenes pulse with electric shades of green, highlighting the hive of activity that precedes the arrival of a newborn (or three)." –Publisher's Weekly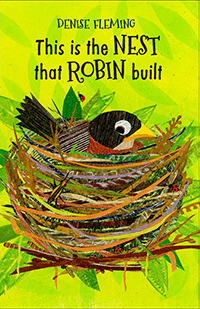 "A mother robin builds a nest with a little help from nearby creatures[…]the cumulative story expertly reinforces narrative comprehension while also building vocabulary. Fleming combines her signature printmaking techniques with collage to make beautifully textured illustrations filled with natural tones and repeated patterns[…]An avian revision of a classic rhyme that soars." –Kirkus
"A robin's nest is fabricated with a little help from a squirrel and other familiar animals[…]Richly hued illustrations are mixed media done using a printing technique and collage. They are expressive, textured, and show various perspectives. Vertically oriented pages support the illustrations, calling to mind the height of a tree, and are accompanied by a cumulative, alliterative, and rhyming text done in the familiar cadence of "The House That Jack Built." VERDICT A handsome choice to welcome spring and new life that will read aloud well with a group or in an intimate setting." –School Library Journal